House of Twyne
From Codex
Jump to navigation
Jump to search
Twyne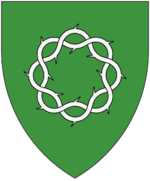 The House of Twyne was a hedgehog family from Summerly pledged to serve the mink House a Tair. They were commonly rather noble, knightly creatures, seeing themselves on the side of justice, peace, and friendship, regardless of the conflict they found themselves in.
Twyne's ancestral seat of power was Castle Quill, until the castle was seized by the House of Maigher and the Blazing Banners. For this, and many other reasons, the Twynes were dire enemies with whomever supported the Maighers.
Members
Lord Twynsel Twyne of Castle Quill and Pearwood
Lord Winselius Twyne, firstborn son of Twynsel Twyne, executed in Rorke by King Rorke(retcon?).
Quorrigan Twyne, secondborn son of Twynsel Twyne.
Tobert Twyne, thirdborn son of Twynsel.
Sire Torben Twyne, fourthborn son of Twynsel.
Ambleton Twyne, fifthborn son of Twynsel.
Lady Doerthy Twyne of Goldenplum, older sister of Twynsel.
Sire Queldon Twyne.
Sire Rochird Twyne, son of Queldon
Warlady Myrtle "The Hammer" Twyne of Hammerswift, daughter of Queldon.
Sire Hethram Twyne of Heron's Refuge, cousin of Twynsel.
Family tree
    = Male
    = Female
    = Unknown